Why Is My Car Overheating?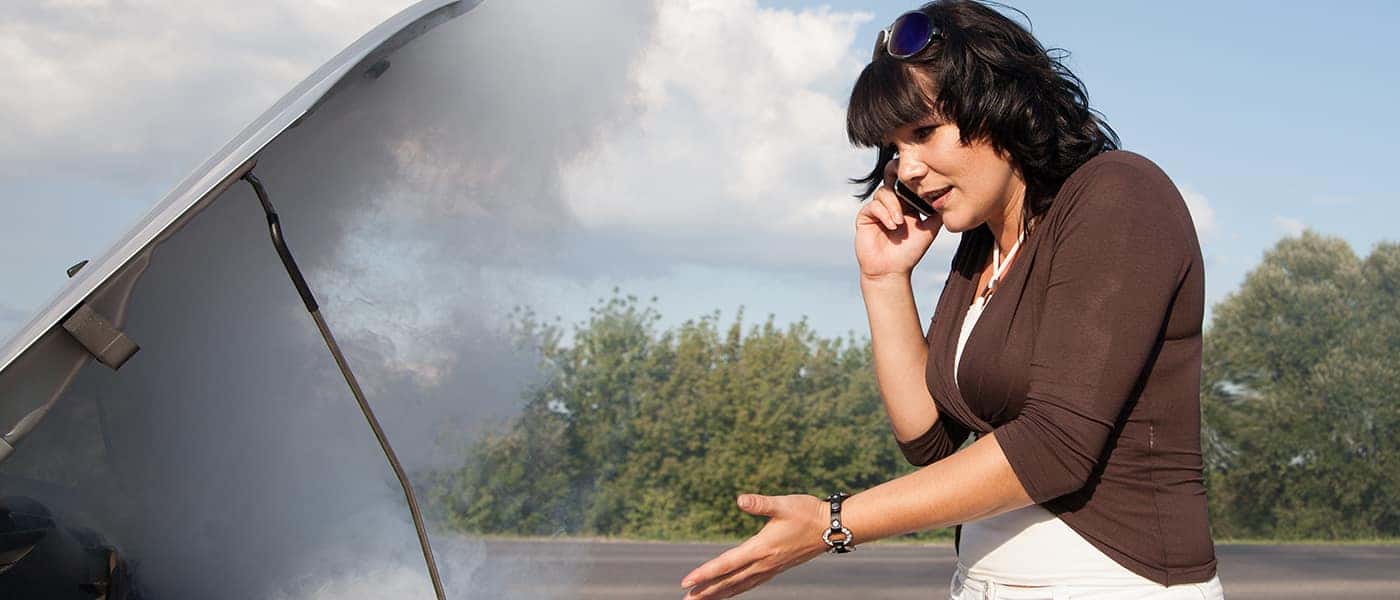 ---
When in motion, the vehicle's temperature gauge will typically rest between 195-200 degrees Fahrenheit. If you notice your car temperature is dramatically higher, do not drive the car and immediately consult the Mercedes-Benz of Bloomfield Hills service center or Mercedes-Benz Roadside Assistance for guidance. There are multiple reasons a car would overheat, from a leak in the cooling system to an issue with the radiator, which can be increased by continuing to drive.
What Causes a Car to Overheat?
Similar to waking up with a strange pain and knowing you should call a doctor, a car overheating typically indicates there's a service issue with your vehicle.
Cooling System Leak: In most cases, the reason a car would overheat is a cooling system leak that's coming from either the radiator, hoses, water pump, head gasket, or thermostat housing.
Coolant: If you are low on coolant, the wrong coolant was put in your car, or you have an improper coolant-to-water ratio (50/50 is proper), overheating will likely start.
Hose Blockage: When we drive, all sorts of road grime can get lodged in the coolant hose and prevent normal car cooling.
Radiator Malfunction: The radiator fan can break or blockages and leaks can also occur in the radiator that lead to overheating.
Broken Water Pump: When the water pump malfunction, it's no longer able to send coolant through the rest of the cooling system, again causing overheating.
What to Do When a Car Overheats
Unfortunately, your car may not overheat until you've already hit the road in Southfield. If you're not able to immediately pull over, stop running the air conditioner and instead, turn up the heater. This will direct engine heat to you and allow any remaining coolant to focus where it's most needed. Once you've turned off the car, do not attempt to touch the hood or engine area for at least 30 minutes. Unless you're very confident with car repair, your best bet is to contact Mercedes-Benz Roadside Assistance and arrange a tow to our service center.
Prevent Overheating at the Mercedes-Benz of Bloomfield Hills Service Department
With the help of our service specials, our Mercedes-Benz service department serving West Bloomfield will help keep your vehicle running safe. Schedule your next service appointment with us today, and consult our other service tips to protect the longevity of your luxury vehicle.
More From Mercedes-Benz of Bloomfield Hills
West Bloomfield drivers are tackling their daily commutes in luxury with the new Mercedes-Benz E-Class. Better still, the 2020 Mercedes-Benz E-Class trim levels have something for every driver. No matter what you're looking for in your next luxury sedan, you'll find it in the E-Class. When it comes to budget, the Mercedes-Benz E-Class price is pretty…

A new Mercedes-Benz S-Class is on the way, and it's unlike anything else West Bloomfield has seen thus far. The forthcoming 2021 Mercedes-Benz S-Class is slated to be released in Spring of 2021, and you definitely don't want to miss it. Why? The newest generation of S-Class will introduce new innovations never before seen in the…

The 2021 Mercedes-Benz GLS SUV is a top-rated full-size vehicle that can comfortably seat up to seven adult passengers. What's more impressive than the affordable price tag is the new Mercedes-Benz GLS weight capabilities, cargo volumes, and space-saving features. Get all of the details about the Mercedes-Benz GLS dimensions, cargo weight, and more with…