Is There a Mercedes-Benz Camper?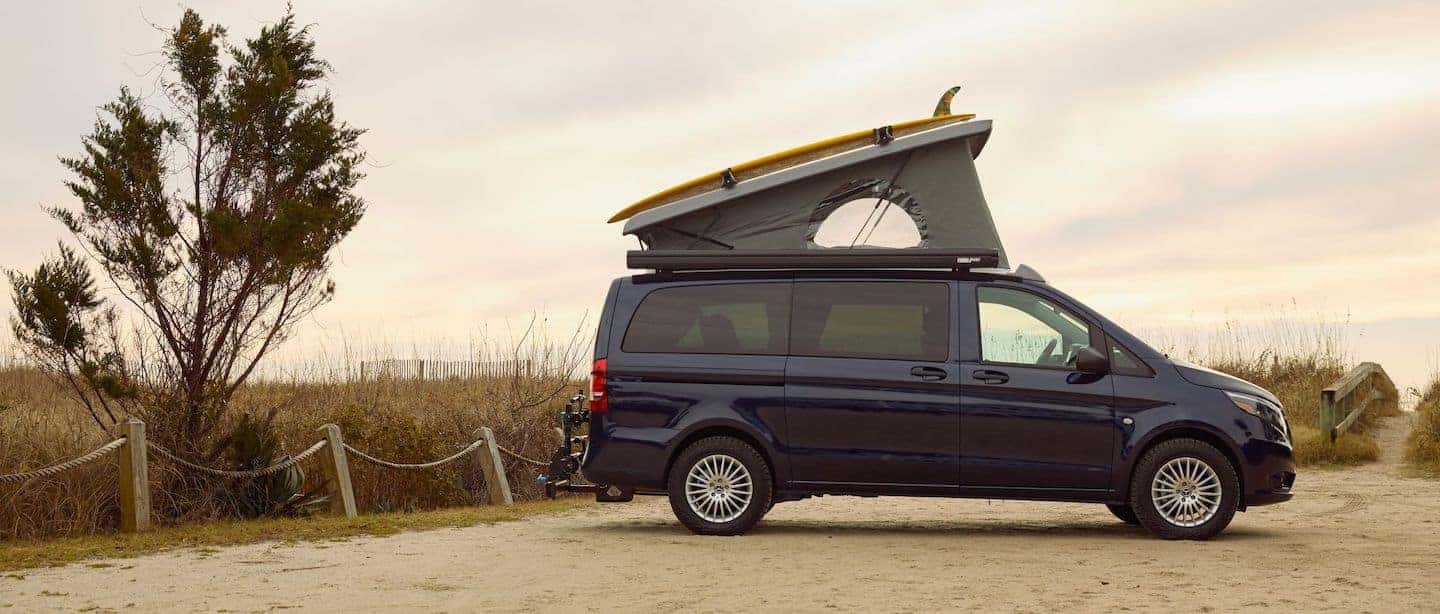 ---
---
Even the most rugged adventurers can appreciate a touch of luxury when they're roughing it far outside of West Bloomfield and Southfield, so we're never surprised at Mercedes-Benz of Bloomfield Hills when customers ask us about Mercedes-Benz camper options! Within the American market, it's the Mercedes-Benz Sprinter camper van that is best-known as a road trip companion. The Sprinter is renowned for offering great versatility to local businesses, but did you know it can also be modified for recreational camping? Learn more about Mercedes-Benz camper vans and gain some insight into an interesting European-exclusive camper with our team, below!
Learn More About the Mercedes-Benz Sprinter Camper
Surprised to learn that the Mercedes-Benz Sprinter can be converted into a camper van? You're not alone! The Sprinter is most commonly utilized by contractors, businesses with delivery needs, or for transportation companies. However, it's exactly this type of versatility that makes the Sprinter an ideal solution for those looking into camper van solutions. Birmingham adventurers can choose from several different van lengths and heights, making it easy to choose an option that's comfortable for sleeping, eating, or just lounging at the campsite.
After settling on a van size that suits your needs, you can start shopping around for a new or pre-owned Sprinter van to modify. You may need to dedicate a decent amount of time to find what you're looking for, but Mercedes-Benz of Bloomfield Hills has an extensive inventory and a knowledgeable staff to make the process that much easier. Curious to know more about the Mercedes-Benz Sprinter camper? Take a look at the following advantages you'll enjoy when you choose one of these Mercedes-Benz vans for your conversion:
Fuel-Efficiency on Long Road Trips: No matter how far you travel, the Sprinter Van earns great gas mileage with gas- or diesel-powered engine options.
Reliability: Mercedes-Benz vans like the Sprinter and the Metris are designed with durability in mind. Whether you're using yours for the worksite or the campsite, you'll be able to depend on it for many years and miles to come.
Cavernous Interior Space: The Sprinter offers up more than enough space to make long road trips comfortable and allow for a comfortable night's rest.
Agile Handling: Although the Sprinter is a full-size Mercedes-Benz van, you'll find it delivers nimble handling on streets and highways, which always makes for a more pleasant travel experience.
What is the Mercedes-Benz Marco Polo Camper Van?
The Marco Polo is a more classic offering among Mercedes-Benz camper vans, but it is exclusive to the European market. While those of us around Bloomfield Hills may never get to step inside this Mercedes-Benz camper, we think it deserves an honorable mention because its feature highlights are so impressive! Check out the standard equipment the Marco Polo boasts:
Sink
Table
Cupboards
Gas burners
Refrigerator
Small double bed
Wastewater tanks
Power pop-up roof
In true camper van fashion, these features and amenities are customizable to suit each individual's sleeping and storage needs, comfort preferences, and more.
Contact Mercedes-Benz of Bloomfield Hills to Learn More
Dreaming of converting your very own Mercedes-Benz Sprinter camper? Your adventure starts in Bloomfield Hills! Contact us at Mercedes-Benz of Bloomfield Hills to learn more about our inventory of Mercedes-Benz vans for sale and gather tips from our service team about making your modifications. We also offer flexible finance solutions if you're interested in a loan for your camper van.